This week was a rough one for me. I've been crazy busy redesigning this site (oh yeah - stay tuned - that's happening!) Plus, not only was I getting over an injury from last week - but there were also a couple days I was just not feeling great. I felt like I was coming down with something...
'Tis the season, am I right?
I pushed myself as hard as I could, modified some of my moves and rested when I needed to. I should be going into "Recovery Week" soon, but with the last week and a half being plagued by injuries and illness - Recovery Week is being postponed a little bit.
One thing I have noticed over the past few weeks is that exercise is only part of the battle. You have to be extremely conscious of what you are putting into your body as well. You can exercise every day - but if you are fueling your body with crap - you're going to feel like crap. And who wants that?
That being said - you don't need to become a rabbit and simply eat carrots and lettuce. LOL There are so many recipe options that are both healthy and delicious. When signing up with Team Beachbody - you will be given access to a variety of recipes.
These are two recipes that I found on the Beachbody site. I am looking forward to trying my hand at them over the next week. Wish me luck!
Quinoa with Pistachios and Dried Cherries
Dried cherries and pistachios taste great together in this colorful side dish.
Total Time:
3 hrs. 20 min.
Prep Time: 20 min.
Cooking Time: None
Yield: 8 servings, about ⅔ cup each
Ingredients:
4 cups cooked quinoa, cooled
3 green onions, thinly sliced
⅓ cup raw pistachios, coarsely chopped
¼ cup dried cherries (low sugar preferably), coarsely chopped
½ cup chopped fresh basil
1 tsp. sea salt (or Himalayan salt)
½ tsp. ground black pepper
1 Tbsp. extra-virgin olive oil
¼ cup champagne (or balsamic) vinegar
Preparation:
1. Combine quinoa, green onions, pistachios, cherries, and basil in large serving bowl; mix well.
2. Season with salt and pepper; drizzle with olive oil and vinegar; toss gently to blend.
3. Refrigerate, covered, for 2 to 3 hours, or until cold. Serve cold.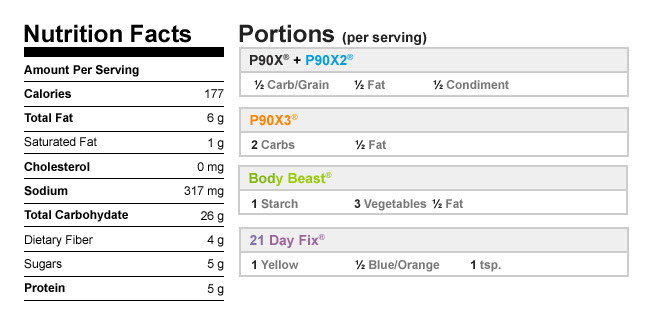 Whitefish with Tomato Salsa
This flaky white fish is easy to make and high in protein. Cooking it with fresh tomatoes and herbs gives it tons of flavor.
Prep Time: 10 min.
Cooking Time: 9 min.
Yield: 4 servings
Ingredients:
1 medium red tomato, finely chopped
1 medium yellow tomato, finely chopped
5 fresh basil leaves, chopped
1 Tbsp. olive oil
1 Tbsp. balsamic vinegar
Sea salt and ground black pepper (to taste; optional)
4 (4-oz.) each white fish fillets (like cod, halibut, or tilapia)
Preparation:
1. Preheat grill or broiler on high.
2. Combine tomatoes, basil, oil, and vinegar in a medium bowl; mix well.
3. Season with salt and pepper if desired; mix well. Set aside.
4. Top baking sheet with foil. Top with fish and tomato salsa. Pull up sides of foil and close, leaving a small opening at the top.
5. Grill or broil for 7 to 9 minutes. Open foil carefully (steam will come out). Fish should flake easily when tested with a fork.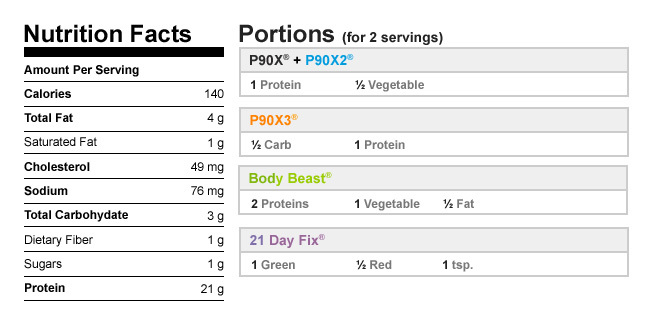 Photo Credit: beachbody.com